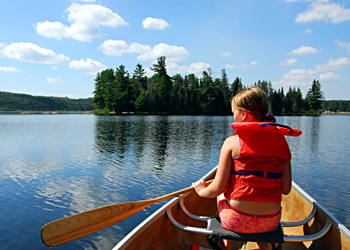 Kanotcenter Skebokvarn is situated in the middle of Sörmland, along route 57 by the great lake Båven.
Lake Båven is the southermost wilderness lake of Sweden and a part of a widely stretched system of lakes and rivers. From the canoe center you can reach more than 500 km of paddling water.
Lake Båven has 365 islands... one for each day of the year!

Skebokvarn is situated 100 km soutwest of Stockholm and 7 km from Flen.
Nyköping Skavsta Airport is 45 km away.
You get here by car or buss that stops at the canoe center in the middle of our village Skebokvarn.

Kanotcenter Skebokvarn is situated in the old milk dairy "Gamla Mejeriet" from 1922. Here we rent out Canoes, Kayaks and most what you need for your padle expedition. We also have a Hostel, a Cafeteria and a shop for canoes and accessories. We also have education in paddling.

You can start your paddling directly at our own dock. We also have transportation service if you want to start or end your trip elsewere.